Are you a student who wants to become a professional astronomer?
Join us on 2020-10-11T04:30:00Z to find out how!
Speakers:
Preethi Krishnamoorthy
Post-doctoral Researcher, Project PANOPTES, Subaru Telescope, Hawaii
Preethi is a post-doctoral researcher at the Subaru Telescope in Hawaii, USA. She is working on a citizen science project that builds robotic telescopes to detect transiting exoplanets, with help from citizen scientists around the world. She likes using astronomy as a tool to engage school children in interactive sessions and hands-on activities, to help them learn science and in developing a scientific temper. She also enjoys using their crowd-funded telescope to conduct public sky watches and to learn astrophotography.
Avinash Surendran
Post-doctoral Researcher, Keck Observatory, Hawaii
Avinash is currently a post-doctoral fellow at the W. M. Keck Observatory in Hawaii, USA. He is contributing to the development of a new Adaptive Optics system at the telescope to reduce the effect of atmospheric turbulence degradation on astronomical observations. In his spare time, he loves to tinker with their crowd-funded telescope and figure out the right combination of optics and electronics needed so Preethi can do her astrophotography on a budget!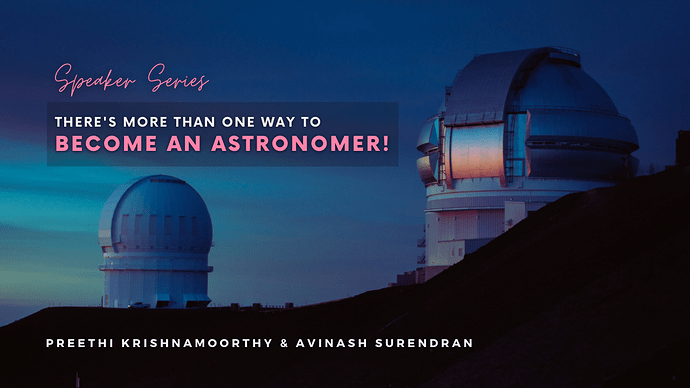 Please share this with your friends & relatives who might be interested in this!